Hi, friends. I hope you have enjoyed a blessed Thanksgiving. Our family had a wonderful day and meal together, and we're so grateful for the time for as many of us as possible to enjoy one another's company for a day or two.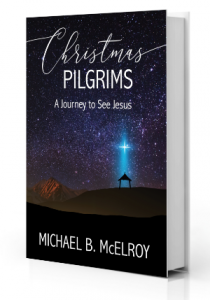 Christmas Pilgrims is off to a good start locally, and on Amazon. Friends and church members have been very encouraging about the book. Pastor friends and others have already been buying the book for themselves and their associates, their staffs and study groups. Local media has been so supportive, with radio interviews and newspaper articles about Christmas Pilgrims. I'm honored and humbled to welcome everyone who has already joined us for the pilgrimage to Bethlehem. 
I'm looking forward to meeting more pilgrims this weekend at two book-signing events scheduled in the local area. Saturday, November 24, we're scheduled to be at cornerstone coffee company, located at 12 Kowaliga Street in Eclectic, Alabama from 10:00 AM until 12:00 Noon. If you're in the Elmore County area, Suzanne and I would be glad to meet you there. Gina Sanders and her helpers serve a quality product in a pleasant atmosphere. Come drink some Common Ground (my current favorite roast)  or another of cornerstone coffee company's delicious coffees and beverages, and take a look at the book. 
Then, Sunday, November 25, we'll be at East Tallassee Church of Christ, located at 501 Central Boulevard in Tallassee, Alabama from 2:00 until 4:00 PM. This church has loved and encouraged me during the past 21 years I've been blessed to serve as their preacher. They were enthusiastic in their support of my first book, The Abiding Companion, when it was published eight years ago. Suzanne and I invite our Tallassee friends to join us Sunday afternoon for refreshments at the book signing. 
I am praying that Christmas Pilgrims will help you focus your heart and appreciate Jesus even more in this month before Christmas. It's available locally at the book signings, or directly from me via email (christmaspilgrims.com). It's in stock at WACQ Radio in Tallassee, where local fellow-author Debra Hughey sells her excellent books and others by local authors. Christmas Pilgrims is also available in print and Kindle editions from amazon.com.