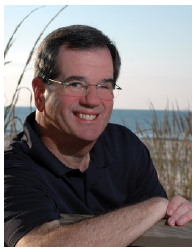 Whenever he stands to speak or sits to write, Michael B. McElroy remembers the Apostle Paul's words: "Therefore, having this ministry by the mercy of God, we do not lose heart." After more than 40 years of preaching and teaching the Bible, Mike knows the privilege, opportunity, an any ability he has as a communicator are all gifts of God's grace.
He is grateful for the gift of his family — for his wife, Suzanne; his adult children Heather, Amy, and Mac; and his grandchildren Graham, Kate, Linnea, Connor, and Lorelai. Most of all, Mike is thankful for God's greatest gift, his Savior, Jesus Christ.
Mike is the author of Christmas Pilgrims — A Journey to See Jesus and The Abiding Companion – A Friendly Guide for Your Journey through the New Testament. Mike is honored to be a servant of Jesus, and delighted for the opportunity to share these devotionals with you.